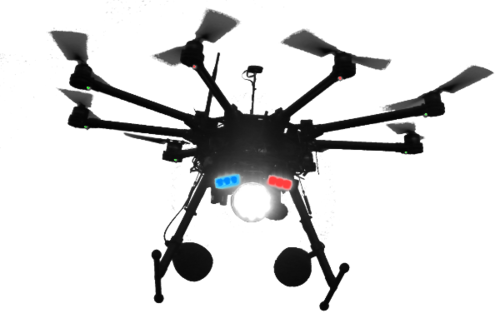 Aptonomy is making intelligent security drones. They patrol property and respond to alarms to prevent crime. We sat down with co-founders, Mihail Pivtoraiko and Siddharth Sanan to talk about what they're building.
What YC Likes About Aptonomy:
"This is an interesting and very practical application for drones that can have an impact today."

Michael Seibel, Partner, Y Combinator
YC :

How did you come up with the idea for Aptonomy?

Mihail: As roboticists, Sid and I were thinking of ways to make security that operated autonomously, around the clock. We saw that drones were becoming more affordable but they were chiefly being used for mapping and cinematography. We thought that a fully autonomous drone would be the perfect solution for the market–that was the start of Aptonomy.
YC :

That sounds pretty awesome. How does it work?

Sid: You place the drone on the property you want it to protect and it'll go on autonomous patrols at random intervals. A security guard can also activate the drone and tell it to go search a certain area using our app. The drone will also give the security team a live view of what's happening at the site. If there is an intruder, the drone will activate its floodlight. It's kind of like what a police helicopter does when it's trying to find a fugitive in movies. And the drone is equipped with speakers so you can communicate through the drone.
YC :

Some people will argue that drones are overkill. Why is your solution is better?

Sid: The most widely used tool in security are cameras. They're great for gathering evidence but they don't prevent crime from happening. Security guards often have to sit for long hours and they get tired or distracted.. In other words, property owners aren't always getting the level of security they think they're getting. Plus, if you consider a high-risk scenario it's safer to send in a drone than risk a human life.
YC :

What unexpected challenges are you facing?

Mihail: One thing we didn't expect was how varied the environments would be. We're talking to a refinery in North Dakota and their winters are very harsh. We'll have to include a heated charger pad to make sure there's no accumulation of ice on the blades. Then there are other things that we have to keep in mind like wind speed and weather patterns. This is going to be an interesting technical challenge.
YC :

What features will you add over time?

Sid: We're working on integrating the drone into existing security systems. When a security camera or motion detector sets off an alarm, we want to activate the drone and send it over to that location. We also want to add onboard computer vision so our drone can tell humans from other objects like a car or fence.

Mihail: A lot of people ask us if we'll add guns and the answer is "no". We want to let the police do their work and enable these drones to watch their backs. We don't want robots to have a role in determining the outcome in a life or death scenario.
YC :

What's your long-term vision for Aptonomy?

Mihail: Our motto is simple: we save lives. We want to reduce human casualties by enabling guards to increase their reach and speed.