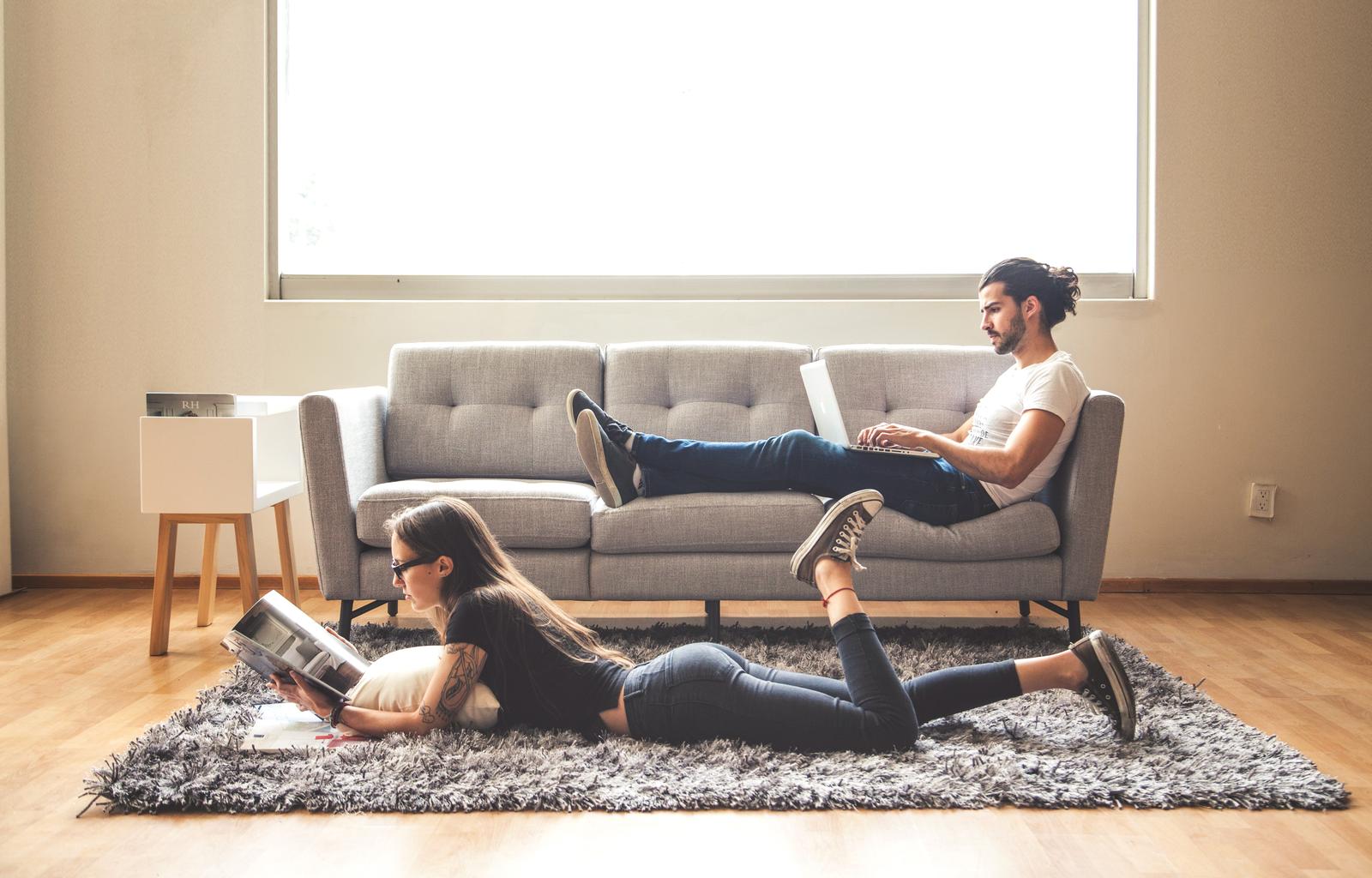 Burrow is a direct-to-consumer sofa company that manufactures and sells high-quality, designer sofas for a fraction of the price of comparable retailers. We sat down with Stephen Kuhl and Kabeer Chopra to talk about how they're changing the furniture industry.
What YC Likes About Burrow:
"I recently moved back to San Francisco, and the first thing I did was go on Burrow to get a sofa. Burrow sits at the intersection of a huge furniture market with a very annoying buying process. People want things simple and fast. Burrow gives you that."
-Adora Cheung, Partner at Y Combinator
YC :

How did you come up with the idea for Burrow?

Kabeer: Steve [Kuhl] and I were trying to furnish our apartment last August when we started business school. Every piece of furniture was easy to get except the sofa. I wanted something nice, so I did a bit of research and found a sofa I liked at West Elm. When I tried to purchase it, I was told that it would take twelve weeks to be shipped to me, plus a $250 delivery fee. Ultimately I just bought what they had available in store and carried it home on a cart myself. Steve, on the other hand decided to just buy a sofa from IKEA. He rented a U-Haul and spent two hours assembling it. The entire experience was complicated and time-consuming for both of us, so we tried looking for companies that offered a better experience and a high-quality, affordable sofa. There were none, so we decided to start Burrow.
YC :

What are the major pain points you're solving with Burrow?

Steve: The first thing we wanted to address was sofa delivery time and cost. The average shipment time is about 12 weeks and consumers have to spend an additional $200 to $400 on delivery fees.

We offer the same high-quality sofa you would find in West Elm for $850, delivery included, and it ships in less than five days.

While we were researching why it took 12 weeks to ship, we figured out the underlying problem. Sofas are bulky, and it's expensive to keep a large inventory of them. When you make an order, the store requests it to be manufactured. Once it's made, it gets shipped to a facility that works on getting it shipped to the store where you made the purchase. Once the store receives the sofa, they ship it to you. So there are multi-layered shipping costs that make the process costly and inefficient. We eliminate all of those costs by creating a direct-to-consumer solution. That's also why we decided to make Burrow modular. The pieces fit in compact boxes that weigh about 50 lbs and can be shipped through UPS Ground rather than freight, saving our customers money.

Kabeer: Oh, one thing we heard over and over again is that oftentimes the sofa blocks your power outlet. That's why we've integrated a hidden outlet into the sofa.
YC :

At what point did you realize you had to make it modular?

Kabeer: Steve and I are both from New York, so we know, first-hand how difficult it is to carry a giant sofa up six flights of stairs. A lot of our friends face the same problem, so we realized we had to break the sofa down into smaller modules and ship them in easy to carry boxes. That way you don't have to worry about narrow staircases or doors and you don't have to hire movers or recruit friends.

Steve: Millennials move every 1 to 3 years and they end up selling their sofa because it's difficult to move or it doesn't fit into their new apartment. That's why a lot of people opt for cheap, low-quality furniture. They know they'll have to get rid of it sooner or later. We wanted to make high-quality sofas accessible. By making it modular, it's made to grow or shrink with the customer's living situation. Rather than having to buy a new piece of furniture, you can just buy the middle section and have a three-seater. Or, if your new place is smaller, you can remove the middle piece and still have a nicely designed sofa.
YC :

Why hasn't anyone done this before?

Steve: It's really hard to build a high-quality product while maintaining an affordable price point. It sounds like a simple idea, but we've had to bring on industrial designers, furniture designers and even a mechanical engineer who's helped build helicopters and planes before.

And you have to be really lean operationally to make this work. That said, we're starting to see see a lot of direct-to-consumer companies - like Casper, Warby Parker, and Dollar Shave Club - change the way people shop. They're making products cheaper and the experience frictionless, which no one has done with sofas yet. Online furniture sales are growing 16% every year, so we want to bring that same experience to consumers.
YC :

We often hear from startups that it's challenging to find the right manufacturer. How did you find the right one to build your sofas?

Kabeer: Most of the sofas in the United States are manufactured in North Carolina and Mississippi. Those manufacturers wanted us to sell their pre-existing designs because they thought it wasn't worth their time to retool their shops to work with our modular design. So we looked towards manufacturers in China. They were willing to do it but the shipping time would take around six weeks and wouldn't allow us to provide the great user experience we're trying to achieve.

That's when we were introduced to a well-established manufacturer in Mexico City through a friend in business school. They really liked our vision and turned out to be the ideal partners for us to help bring this product to market.
YC :

Where do you see Burrow going beyond sofas?

Steve: We want to make high-quality design accessible, so we see ourselves taking over the whole living room. We don't want people to settle for disposable IKEA furniture or spend thousands of dollars at a West Elm and wait for weeks. We want people to be able to move into their new home and spend less than an hour to furnish their entire living room with high quality and high design furniture for $2000.