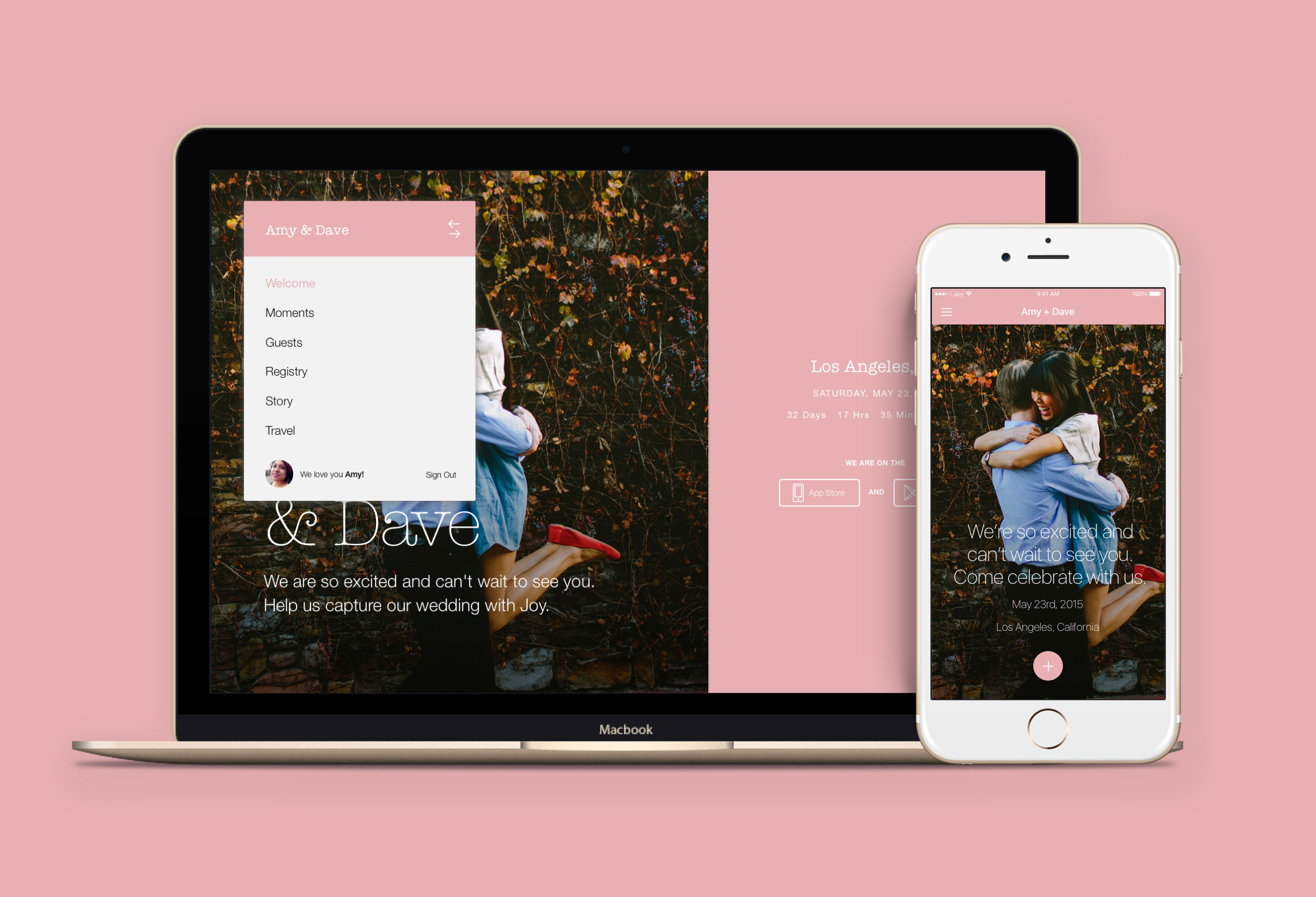 Joy is a tool that helps couples plan their wedding from engagement to honeymoon and everything in-between. They build a virtual home for your wedding - a website and app, and you can manage guests, RSVPs and everything else, all in one place. We sat down with Vishal Joshi to talk about how Joy is making wedding planning and management easier.
What does YC like about Joy:
"I'm getting married and I'm using Joy for my wedding. I liked it because of the clean design, and the fact that it is an all-in-one workflow tool for everything from invites, website, and photo sharing. For engaged couples, I think it acts as a virtual wedding planner that helps navigate the wedding process."

-Justin Kan, Partner at Y Combinator
YC :

How'd you come up with the idea for Joy?

Vishal A few years back, my cofounder Michael's sister was getting married and found the process to be a huge headache. She had to sign up for a bunch of services in order to deal with guests, vendors, and logistics. None of these tools integrated with one another, so she would have to manually transfer information between them. One night she reached out to Michael, Kaiwalya and I because we were the resident geeks. (laughter)

We rebuilt all the tools and put them in one place so she could plan her wedding from her phone. It ended up being a super useful and a lot of people started asking us for it, so we decided to work on it full-time.
YC :

What were people using before?

Most people start with Save the Date cards, which is either done by postcard or online. Then you have to figure out an RSVP system. Then you have to set up a wedding website so people can look at your wedding photos and find out more information. And there's also the registry. All of that is just for informing your guests.

From there, you actually have to plan the wedding, which means managing guests, collecting photos, finding vendors for catering, booking locations, hiring photographers, reserving accommodations, and more.
YC :

How is Joy different from existing solutions?

We determined the most time-consuming aspects of wedding planning and put all the tools to address those things in one place.

You start by designing your own wedding website. You can include the wedding schedule, the story of how you met, engagement photos, and who the wedding planning team is. From this site, you can also manage your guest list, RSVPs and even allow people to upload their photos as they take them during the wedding. The best part is that once you design the website, it's automatically available on iOS and Android so your guests can access it anywhere.

After the event, the couple and their guests get a personal wedding timeline that brings together everything that happened at the wedding–things like comments, photos, and videos. This way, the couple can share and relive their special day for years to come.
YC :

What has the response been like since you've launched?

Quite amazing really. We launched about six months ago and we already have more than 3,500 weddings using our app from across 100 different countries. A lot of brides spend six to twelve months planning this one day, so helping them best showcase their wedding while reducing the management aspect of a wedding makes a huge difference.
YC :

How do you see Joy evolving over time?

Our vision is for Joy to become an indispensable assistant to the couple and their guests. We like to think of it as a virtual bridesmaid or groomsman and guest concierge all rolled up into one.

Joy will have an intelligent understanding of wedding details and provide suggestions and automation where it's useful. You'll be able to rely on Joy to keep track of schedules, assist with travel arrangements for guests, help build a wedding registry using trends and taste profiles, and more.