UtilityScore provides personalized recommendations for home improvements that save money on energy and water bills. From just your home address, it can tell you how much money you will save and if you are better off installing solar panels or buying a new heater. They sell data to lenders, suppliers, and contractors to help them get more customers at a lower cost. In the United States, if all single family homeowners implemented UtilityScore's recommendations they would save $51 billion dollars annually on their energy and water bills. We sat down with UtilityScore's founder, Brian Gitt, to talk about what he's building.
What YC Likes About UtilityScore:
"UtilityScore has painstakingly assembled a dataset of the utility costs for every home in the US. This data had to be gathered and normalized from thousands of sources, and this is the first time someone's done it. Now that it's been done, it is going to change the way people buy and renovate homes."
-Jared Friedman, Partner at Y Combinator
Tell us about UtilityScore.
UtilityScore first tells you how energy and water efficient your home is just by entering your address. Then we give you personalized recommendations for home improvements and calculate how much you can save.
UtilityScore can give recommendations for every house in the US because it has assembled the first national database of address-level utility costs. To calculate utility costs, we assembled over 5,000 utility rates and then combined that with local climate data, and property characteristics such as square footage, age, and lot size.
We then offer the ability to refine selected home improvement projects based on lifestyle preferences and number of occupants, so we allow people to change the number of residents, their ideal room temperature for heating and cooling, and whether there's anyone in the house during the day.
And unlike other companies that try to sell one product, we show you an array of options because not all projects and financing options are created equal. You have to consider how long you plan on living there, your credit score, the local climate, and how much cash you have on hand. Each of these influences what decision is best for you and we want to give you the most relevant information so that you can make the best choice.
How did homebuyers determine utility costs before UtilityScore?
There really hasn't been an accurate or efficient way. I've heard of people trying to call the utility company, knocking on neighbor's doors, and asking for past bills. None of that really gives you an answer because behavior and occupancy changes from family to family, which can result in a huge cost difference.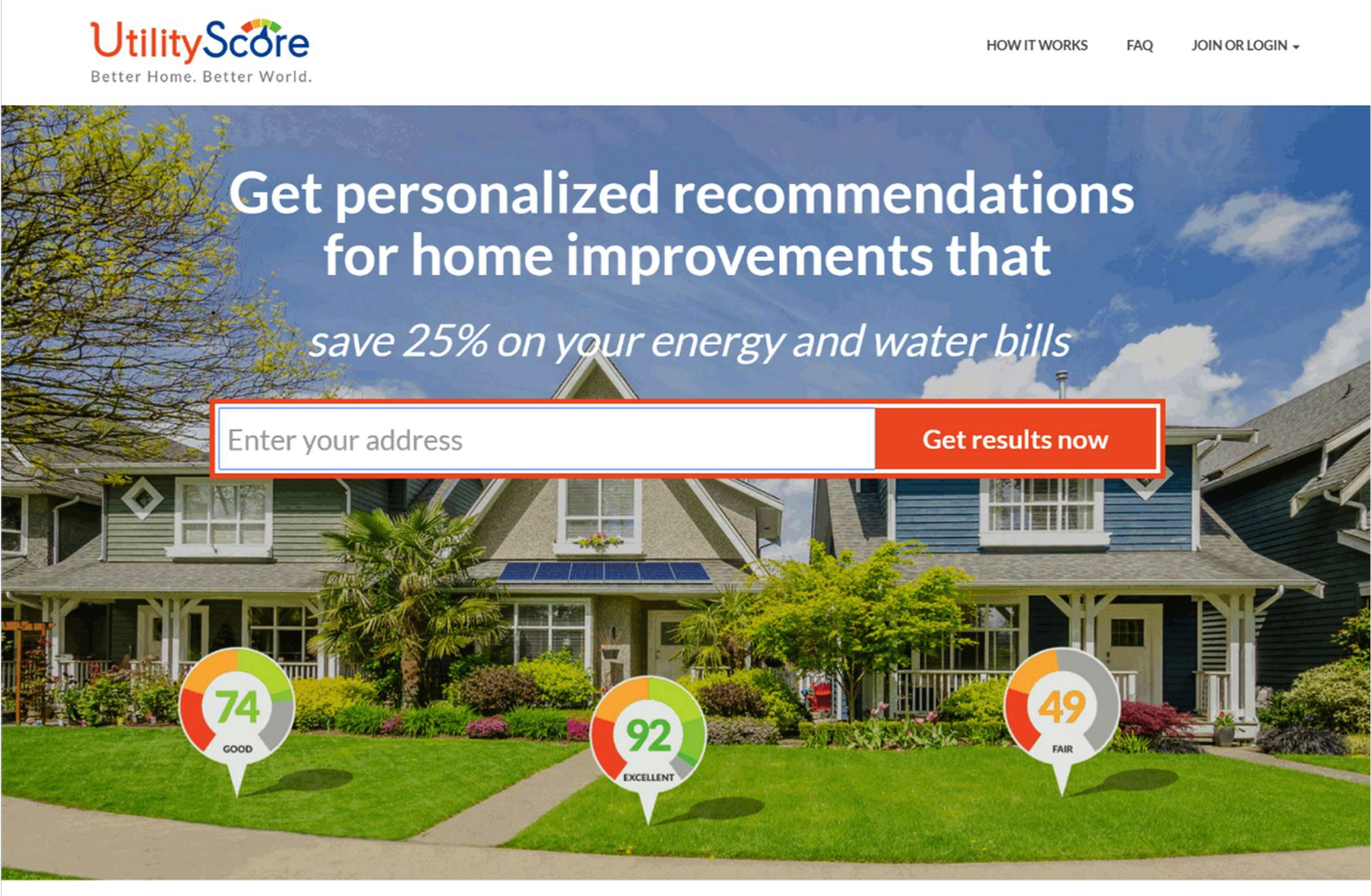 How did you decide to start working on UtilityScore?
I've been in the energy and remodeling industry for the past 18 years. My last company commercialized new technologies as a way to reduce energy and water consumption and was the primary consultant that designed and implemented a statewide program called Energy Upgrade California. We designed financing and rebate programs and trained contractors throughout California.
During my time at Energy Upgrade California, I always thought that if we had enough money we would be able to make an impact. But, when government agencies in California were showered with over $60M during the American Recovery and Reinvestment Act, there were still a lot of inefficiencies and bureaucracy that prevented the programs from scaling. That was when I realized that if we wanted to make a difference at scale, we would have to do it outside the confines of a government-led or utility-led program. That's why I decided to start UtilityScore.
What insights are you bringing to UtilityScore from your 18 years in the energy and remodeling industry?
I've learned a lot about the industry over the past 18 years, and the insights fall into three buckets, all of which are needed to scale a home efficiency service.
First, is personalization! Your solution has to help homeowners find the best energy improvement projects for their home. It needs to tell them what the savings will be for these projects so they can make an informed decision.
The second thing is access to capital. A lot of homeowners do not have $15,000 to $30,000 on hand or they have problems accessing financing because they don't have enough equity in their home or their credit score is not high enough to qualify for a personal loan. However, there is a new financing program called Property-Assessed Clean Energy (PACE) that is tied to the property and not the person which make it possible for homeowners to do home improvement and energy-saving projects without having perfect credit. As long as the homeowner is current on their property tax and mortgage payments, they can borrow money from PACE lenders and pay for the projects on their property tax bill over twenty years with low interest rates. These programs remove barriers that have stopped homeowners before because now you don't need a perfect credit score or a lot of cash on hand.
Last, people are starting to recognize the value of these improvements in real estate transactions. The largest personal investment for most people is their residence, but before they buy or rent it, most of them have no idea how much it costs to operate – and it can be an average of 25% of total housing expenses every month! That's why we've partnered with Zillow Group; with our data now live on the HotPads brand, consumers have easy access to utility costs and UtilityScores and can compare homes and apartments they are considering on those parameters.
Why weren't financing tools like PACE available before?
It's a new model that was invented about six years ago, but it hasn't been popularized because there was a lot of uncertainty around the regulatory rules. However, that's changing. In the last two years alone $2 billion in residential PACE loans funded 100,000 home improvement projects in California. Now 32 states have passed legislation to allow PACE and programs are ramping up across the country. This is due to a lot of policy pressure from states to adopt clean energy requirements.
The two least costly and most scalable ways to meet these requirements are increasing home efficiency and installing solar. To really meet these demands, they had to use new financing models that made it extremely easy to carry out these projects. PACE doesn't require a perfect credit score or a lot of equity in the house.
What's your long-term vision for UtilityScore?
I want UtilityScore to be synonymous with home energy in the same way that CarFax is with buying used cars. I want lenders, building professionals and suppliers to use our tools to target, engage, and get more customers.
Another thing I'd like to do is be able to replace your bill. Currently, your energy and water bills are hard to understand because they show you things like kilowatts, therms, and CCF (one hundred cubic feet of water). It should be a unified and understandable bill like your bank statement, showing you exactly how much you spent on air conditioning, your washing machine, lighting, and so forth.